Advanced Droid Bomber

Star Fighter Info
Name:

Advanced Droid Bomber

Production information
Manufacturer:
Class:

Bomber

Technical specifications
Armament:

4 laser cannons
Proton Torpedoes (40)

Crew:

Integrated droid brain

Passengers:

none

Cargo Capacity:

none

Consumables:

4 days

Usage
Availability:

restricted

Role:

Bomber/Fighter

Affiliation:
The
Trade Federation Droid Bomber
also known as the
Advanced Droid Bomber
or commonly known as the
Droid Bomber
was a bomber/fighter used for the
Trade Federation Droid Army
during the Pre-Clone Wars era. They made a comeback for the
CIS
later on in the war.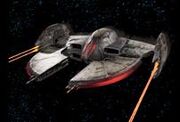 Ad blocker interference detected!
Wikia is a free-to-use site that makes money from advertising. We have a modified experience for viewers using ad blockers

Wikia is not accessible if you've made further modifications. Remove the custom ad blocker rule(s) and the page will load as expected.