Rath Kelkko
CIS Member Info
Name:

Rath Kelkko

Position:

Assassin/instructor

Home World:

Anzat

Died:

19 BBY, Saleucami

Physical description
Species:

Anzati

Gender:

Male

Hair Color:

brown

Eye Color:

brown

Chronological and political information
Affiliation:
Rath Kelkko was Anzati assassin/teacher during the Clone Wars.
Biography
Edit
Clone Wars
Edit
Kelkko and other Anzati assassins were hired by
Dark Acolyte
Sora Bulq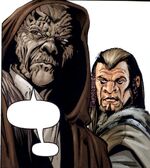 to help train the clone
Shadow army
of Morgukai warrior
Bok
. Kelkko and the other Anzati then went to Saleucami, to it's cloning complex to start training.
[1]
Saleucami
Edit
Unfortunately, the Republic found out about the shadow and laid siege to the planet. Despite that, Kelkko and the other anzati continued to train despite the conditions. Kelko and the other anzati were then sent to attack Jedi general Oppo Ranciss. Kelkko fought hard against Ranciss. Kelkko was among the last to stand against Ranciss. As Kelkko was going in for the kill, he was pushed into a energy barrier and killed.

However, Kelkko's fight with Ranciss gave Bulq the oportunity
[1]
Notes & References
Edit
External Link
Edit
Ad blocker interference detected!
Wikia is a free-to-use site that makes money from advertising. We have a modified experience for viewers using ad blockers

Wikia is not accessible if you've made further modifications. Remove the custom ad blocker rule(s) and the page will load as expected.