Okalin
CIS Member Info
Name:

Okalin

Position:

Assistant/advisor

Home World:
Physical description
Species:

Bivall

Gender:

Male

Eye Color:

Gray-green

Skin Color:

Blue

Chronological and political information
Affiliation:

Confederacy of Independent Systems
Okalin was a assistant and advisor to King Sanjay Rash of Onderon during the Clone Wars.
Biography
Edit
Okalin became Sanjay Rash's royal advisor at around 20 BBY, after he had taken the throne from Dendup, the former king of Onderon. With a network of contacts spread throughout the walled city of Iziz, Okalin was able to stay abreast of the shifting tides of fears and sympathy that gripped the Onderonian citizens during the Clone Wars. Okadin though of warning Sanjay Rash of "terrorist strikes" that threatened his life, but the even-tempered advisor was careful not to provoke the ire of the king or his war leaders.
Okalin was with Rash both when he was conferring with Count Dooku and when he was threatening Dendup by execution, who was secretly conspiring with the Onderon rebels.[1] Okalin was also with Rash when he was arguing with Generals Kalani and Tandin.[2]
After failing to end the rebel movement's gaining of the public affiliation, Okalin was present when Dooku announced to support Rash and his affiliates that the CIS would not support him anymore. Okalin watched as Kalani executed Rash.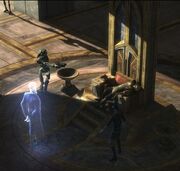 Okalin was spared of this.
[3]
Notes & References
Edit
External Link
Edit

 Okalin in the Encyclopedia
Ad blocker interference detected!
Wikia is a free-to-use site that makes money from advertising. We have a modified experience for viewers using ad blockers

Wikia is not accessible if you've made further modifications. Remove the custom ad blocker rule(s) and the page will load as expected.