Hyena-class bomber
Star Fighter Info
Name:

Hyena-class bomber

Production information
Manufacturer:
Class:

Bomber

Cost:

23,000 credits

Technical specifications
Length:

12.48 meters

Max. Speed:

1,150 km/h

Armament:

Light laser cannons
Proton torpedoes (6)
Concussion missiles (6)
Proton bombs (4)

Crew:

Integrated droid brain

Passengers:

none

Cargo Capacity:

none

Consumables:

2 days

Usage
Year introduced:

22 BBY

Availability:

restricted

Role:

Bomber/Fighter

Affiliation:
The
Hyena-class bomber
, also known as simply the
Hyena Bomber,
was a droid bomber used by the
Confederacy of Independent Systems
as a heavy ordnance craft during the Clone Wars.The Hyena bomber also was used as a fighter, but only when needed. Due to its restricted availability, the Hyena-class bomber was missing in many key battles. The Hyena bomber could be armed with proton bombs, concussion missiles, and proton torpedoes. They also carried two light laser cannons for defense. The bomber saw service in different campaigns on planets such as Christophsis, Falleen, and Ryloth.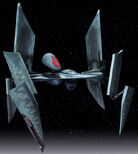 Ad blocker interference detected!
Wikia is a free-to-use site that makes money from advertising. We have a modified experience for viewers using ad blockers

Wikia is not accessible if you've made further modifications. Remove the custom ad blocker rule(s) and the page will load as expected.